Pastel Woodland USB Flash Drive
The success of our Woodland USB Stick has been overwhelming. For precisely that reason, we have decided to offer a new version of the customer favorite: the Pastel Woodland. This colorful version of its popular relative is available in 6 attractive colors that will highlight your brand regardless of whether it is printed (in full color!) or engraved. The Pastel Woodland not only looks great and works hard, it is a great choice for those looking for a more nature-friendly USB solution.
Pastel Woodland USB Stick Gallery
Product Details and Specifications
Available Storage Capacities
The Pastel Woodland USB Stick is available with a storage capacity of 1 GB leading up to 64 GB. Lesser or higher capacities are available upon request.

Information regarding the USB Stick Casing
The Pastel Woodland USB Stick casing is available in the following colors:





Material
Wood
Dimensions:
60 mm x 29 mm x 10 mm
USB Stick Specifications

A data storage solution for all scenarios and every operating system!
Hi Speed USB 2.0 (also available using Super Speed USB 3.0)
Reading speed: 15~25 MB/s (depending on the storage capacity)
Writing speed: 3~10 MB/s (depending on the storage capacity)
Compatible with Apple computers: OS X 10.5 to macOS 12 Monterey or newer
Compatible with Windows PCs: Windows XP to Windows 10 or newer
Compatible with iOS and Android: USB adapter required (+ potentially applicable APPs)

USBFlash24.com exclusively uses high quality NAND Flash Drives by Samsung, Toshiba, Hynix, and Intel compared to many other suppliers.
Price-, Order-, and Delivery Information
Data Pre-Loading
Free Data Pre-Loading up to 1 GB
Along with your USB stick order, we offer to pre-load your presentations, product catalogues, or other data up to 1 GB for free! A small surcharge is applied for larger amounts of data.
Pre-loading data on promotional flash drives is becoming increasingly popular. When you buy branded memory sticks, you are also buying a lot of data storage, so why not make use of it by pre-loading your sales material and other key documents onto the sticks before they are distributed? This is an excellent option for promotional flash drives that are handed out at sales shows/events or for branded memory sticks that are given to delegates at the end of a conference, seminar, or press event.

Locked Partition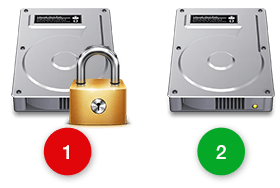 With any flash drive, it is possible to create two "virtual" drives called partitions. The benefit of partitioning a drive is that you can pre-load and protect (lock so it cannot be deleted) your data while giving the user a separate partition for using as they please.
A partitioned USB drive works in exactly the same way as a non-partitioned drive except that it will appear as two separate "virtual" drives when inserted into a USB port of a PC or Mac – typically one will contain pre-loaded files that can be viewed but not deleted, the other drive will be left free for the user to load on any files they wish.
The Pastel Woodland USB Stick Casing is available in the following colors…
Even our Standard Service offers short lead times! The following is an overview of the steps involved…